Active Smart
Key Features
S.M.A.R.T. disks technology support
Notifications about all of the changes made to the hard disks' status
Hard drive temperature control to prevent disk overheating
Set critical disk temperature and Active SMART will automatically save your work and shutdown your PC in case of hard drive overheating
Various types of warnings about disk state
Flexible settings
and many more...
Diskview

Easily manage your disk space
Protect your data from sudden disk failures
DiskView is the leading disk space usage manager that shows how disk space is being utilized, and gives a visual report of disk health - all within W*ndows Explorer

DiskWizard for Seagate:
DiscWizard Suite is your installation software kit for installing Seagate disc drives.
Find the right DiscWizard application for your environment:
DiscWizard Starter
Edition DiscWizard for W*ndowS
This DOS based floppy edition is for installing drives in new system
builds. A 32-bit application for adding a second drive in a system already running a W*ndowS OS.
Features: Solves many common installation
issues by fast formatting and overcomes many capacity barriers. Available in English, Deutsch, Espanol, , and . Features: Easy to read and follow graphics. Includes DiscWizard Starter Edition and SeaTools Desktop. Available in English, Deutsch, Espanol, , and .
Access: Download this
file to your hard drive
then execute to create a bootable diskette. Access: If you have a
fast connection this application makes upgrading a breeze.
Prepares NTFS, FAT32
and FAT16 partitions
for W*ndow$ XP/2000/Me/98. Prepares NTFS, FAT32
and FAT16 partitions
for W*ndow$ XP/2000/Me/98.
Download sizes:
Diskette creator - 2.4 MB
ISO Image - 4.7 MB
(Requires 800x600 resolution)
v10.45.06 Download size: 10 MB
v4.09.05
IBM Hitachi Drive Fitness
IBM - Hitachi Drive Fitness Test will create a self-booting DOS diskette to run the DFT utility. The Drive Fitness Test (DFT) provides a quick, reliable method to test SCSI and IDE hard disk drives.
The Drive Fitness Test analyze function performs read tests without overwriting customer data. (However, Drive Fitness Test is bundled with some restoration utilities that will overwrite data).
Includes the support for the latest drives. The users guide PDF covers how to use Drive Fitness Test and the included utilities.

Drive Temperature :
Every day you turn off your computer and go home thinking that your data are safe and secure on your computer, on your hard disk. But do you know that even a hard disk can break down? And it means that all the data you store there will be lost!
The problem of cooling the computer is not new. The more powerful and faster computers become, the "hotter" they get. The modern Pentium IV 3 GHz processor radiates more than 50W of heat!!! Other hardware is not far behind. Coolers on video cards, additional coolers inside computer cases and power supply units are quite common nowadays.
And only hard disks have no additional means to cool them off while they are constantly surrounded by heat-radiating hardware.
When the temperature of a hard disk rises by 10C, its reliability becomes TWO TIMES LESS!
According to manufactures (for instance, their opinions can be found here and here), the normal recommended working temperature of a hard disk is 35-40С. Once it rises by just 10С – from 40С to 50С, the safety of its work becomes more than two times less!
That is why in the first place hard disk temperature monitoring is a way to prevent the loss of data.
To solve this problem, the PalickSoft company created this solution named HDD Temperature™ (Hard Disk Drive Temperature). This software is used to control the temperature of hard disks and prevent failures in their work due to overheating.
It stays invisible.
Hard Drive Temperature works invisibly in the background mode and bothers you only when there is an actual threat to your data and warns you about a dangerous overheating of your hard disk.
Critical data saving.
Even if you are not around when the critical temperature of your hard disk has been exceeded, Hard Drive Temperature will take care and save all your data! It will switch the system into the standby mode and turn off the computer giving the hard disk time to cool off and preventing it from breaking down. All your data, including unsaved Word and Excel documents, will be saved and restored after you turn on your computer!
Unique features!
Hard Drive Temperature has some unique features that you will not find in other similar software.
How does it work?
Your hard drive works all time your computer is power up, even you don't work on it.
Hard Drive Temperature service continuously monitors your hard drive and asks its current temperature every 10 seconds (you can change this time period). It immediately reports to HDD Temperature user interface module any changes in hard drive status.
Hard Drive Temperature user interface shows current hard drive temperature in the system tray area. If overheat status detected, message box displayed on the screen, saying about overheat problem. In case of emergency situations (critical overheat) system immediately hibernates, without loosing any user data, including unsaved!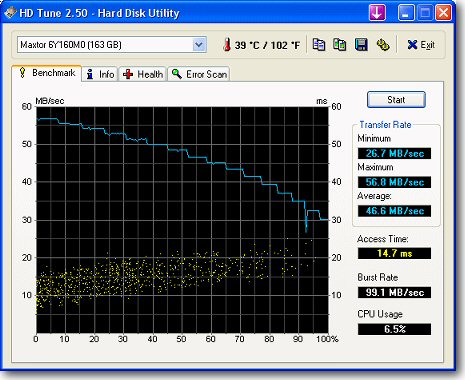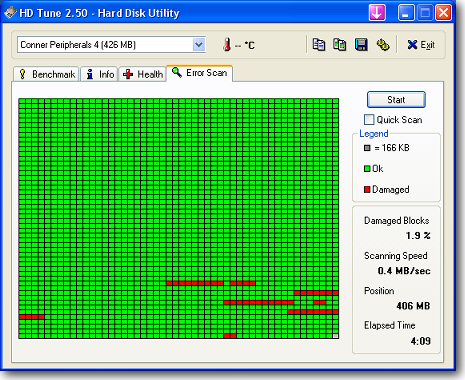 HDtunes
HD Tune is a hard disk utility which has the following functions:
Benchmark: measures the raw performance
Transfer Rate
Access Time
CPU Usage
Burst Rate
Hard Disk information which includes partition information, supported features, firmware version, serial number, disk capacity, buffer size, transfer mode
Hard Disk Health
S.M.A.R.T. Information (Self-Monitoring Analysis and Reporting Technology)
Power On Time
Error scan
Temperature display
Copy text to clipboard
Copy screenshot to clipboard
HD Workbench :HD Workbench features:
Monitor overall SMART status and the status of individual SMART attributes
Perform read-only or read/write surface scans
Reclaim bad sectors
Clone disks sector by sector
Create/restore raw image files
Mount raw image files
Check hard disk temperature
MBR backup/restore
Boot sector backup/restore
FAT, FAT32 and NTFS file system support
Easy integration to the W*ndow$ boot menu and safe mode environment
Requirements:
Windows 2000 or XP
SMART capable IDE/ATA hard disk
Administrative rights
Remarks:
* Source: Kroll/Ontrack
** Not all physical damage is predictable
*** A NTFS partition is required to receive the image file
HDD Health:HDD Health is a full-featured failure-prediction agent for machines using Windows 95, 98, NT, Me, 2000 and XP. Sitting in the system tray, it monitors hard disks and alerts you to impending failure. The program uses Self Monitoring and Reporting Technology (S.M.A.R.T.) built into all new hard disks, and can predict failures on your hard drives. A host of alerting features include email, local pop-up messages, net messages, and event logging, while using no system resources
HDD Life:HDDlife is the protection of your personal information!
Your relatives' photos, your tourist videos, your diary and notebook, messages from friends, business information and documents - are you ready to lose it all at once?
All your data , everything you need both for your work and for your rest is stored on the hard drive of your computer even after it is switched off . It is the hard drive , not the processor , of your computer that really matters to you because if it breaks down , all your data – both personal and business – will be permanently lost.
Main features
• Controlling the health of your hard drives using the S. M. A. R. T. technology.
• Constantly monitoring the state of your hard drives in the background mode.
• Displaying the temperature of your hard drives.
• Disk free space info and monitoring.
• The full list of features
HDD Sentinel:Hard Disk Sentinel description Download
Hard Disk Sentinel is a Windows application that will prevent hard disk failure. Hard Disk Sentinel is a hard disk monitoring application to find possible hard disk problems, performance degradations and failures. It can alert if a problem detected or if temperature is too high and it has other reporting options.
As hard disk sizes are constantly increasing, data stored on them are more and more valuable for the user of the computer (and this is especially true for a company or office). Serious problems can occur upon a hard disk failure.
Hard Disk Sentinel can monitor hard disk status, including temperature and S.M.A.R.T. (Self-Monitoring, Analysis and Reporting Technology, built in most hard disks today) values for each hard disks. Also it measures the hard disk transfer speed in real time which can be used as a benchmark or to detect possible hard disk failures, performance degradations.
Hard Disk Sentinel can be used to prevent serious damage or data loss. It warns the user if there will be a problem occur and this gives opportunity to backup important and valuable data.
Hard Disk Sentinel runs in the background and constantly analyses hard disk status. If there is an error or unexpected behaviour detected, it warns the user about the current status.
Usually, hard disk status may slowly decline, from day to day. The S.M.A.R.T. monitoring technology can help to predict possible failures by monitoring the critical values of the drive.
Also it displays the current hard disk temperature(s) and logs previous temperatures which may be used to check the maximum temperature under high hard disk load.
Here are some key features of "Hard Disk Sentinel":
· Automatic analyse of hard disks
· Instant S.M.A.R.T. analysing
· Disk status in W*ndow$ Explorer
· Information on demand·
· Logging
· Alerts
· Hard Disk Details
· Hard Disk Performance
· Hard Disk Partitions
· Shutdown
· Acoustic Management
· Clock Synchronization
· Improvements
HD Inspector:Hard Drive Inspector is a powerful, convenient and effective program based on the S.M.A.R.T. technology, which allows controlling the state of your hard disk drives. Most computer users argue that information stored on their computer is the most valuable element of the computer system. With the help of the S.M.A.R.T. System, this program allows you to predict a possible failure of the HDD before this occurs. As the access to electronic information becomes more and more vital in business and at home, it allows exceeding the traditional limits of HDDs reliability, thus extending the level of valuable user data protection.
Latest Changes:
Descriptions of many S.M.A.R.T. attributes were
SmartMon:"... this product's ability to remotely detect dying customer disks makes it almost irresistible for rolling out across the enterprises you manage. SMART Disk Monitor enlists the aid of hundreds of S.M.A.R.T. sensors that detect such relevant--but obscure--attributes such as temperature, spin-up and downtime, and internal error logs. SMART Disk Monitor informs you, through e-mail or a W*ndow$ pop-up, when one of these characteristics is out of sync with the drive manufacturer's settings. With that, you--the reseller with a star--can ride in to save the data. SMART Disk Monitor works with SCSI, Fiber Channel, SSA and IDE disks
Download