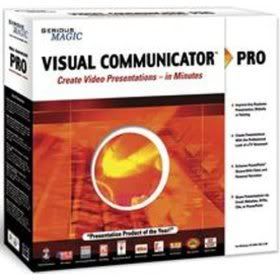 Serious Magic's award-winning Visual Communicator makes it simple for anyone to create professional video presentations in just minutes – right at their desk. Use it to dramatically enhance PowerPoint shows or create new business and educational presentations that are more professional and effective.
Visual Communicator includes everything you need, including step-by-step wizards, templates, royalty-free graphics and music, cutting-edge transitions, an integrated teleprompter, a microphone, and even a green backdrop for virtual background replacement effects. Winner of numerous "Best of Year" awards, including "Best Presentation Software" from PC World.
Visual Communicator Pro is the most powerful and flexible version, providing the option to save presentations for Websites and email, as well as in high resolution for DVDs, projectors and video tape. Visual Communicator Pro even converts PowerPoint files into dynamic video presentations, and includes more graphics, music and cutting-edge video effects than the original version.
Download