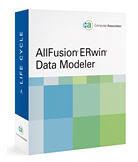 AllFusion ERwin data models help you visualize data structures to facilitate the organization, management and moderation of data complexities, database technologies and the deployment environment. Databases can be developed more quickly while dramatically improving quality and maintainability.
From a logical model of your information requirements and business rules that define your database to a physical model optimized for the specific characteristics of your target database, AllFusion ERwin Data Modeler helps you visually determine the proper structure, key elements and optimal design for your database.
More than just a design tool, AllFusion ERwin Data Modeler is a powerful database development tool, automatically generating tables and thousands of lines of stored procedure and trigger code for leading databases. Its breakthrough Complete-Compare technology allows iterative development – keeping your model synchronized with your database at all times.
Download