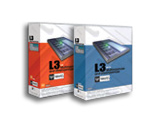 With the L3 Peak Limiter, Waves has once again created an entirely new category of audio processor.
Like its predecessors, the acclaimed L1 and L2 limiters, the L3 is destined to become an indispensable tool for professional mixing and mastering by offering unprecedented control over multi-band peak limiting.
The key to the L3's power is its patent-pending Peak Limiting Mixer (PLMixer) engine. The L3 differs from conventional wide band and multi-band limiters in several ways:
Unlike wide band limiters, the L3 first uses linear phase crossover filters to divide the audio spectrum into five bands.
The PLMixer then uses psychoacoustic criteria to intelligently decide how much attenuation to apply to each band so that all available headroom is used. The result is that intermodulation is minimized and overall loudness is maximized, while brick-wall limiting is still maintained—all while retaining the simplicity of a single master threshold control.
Download