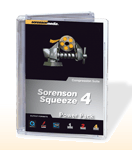 Sorenson Squeeze Suite 4.5 is the industry-leading video encoding tool, enabling users to efficiently re-purpose video content for web, CD or DVD applications.Includes Sorenson Video 3 Pro, Sorenson Spark Pro, Sorenson MPEG-4 Pro and Sorenson AVC Pro video codecs.
Key New Features in Squeeze Compression Suite 4.5
• Up to 3x speed boost while encoding and preprocessing
• Improved H.264
• 3GPP and PSP output support
• Meta data input and output for Flash, QuickTime, Windows Media, MPEG-4, and MP3
• Universal Binaries for Mac OS X on Intel
• DVD disc burning
• New and improved encoding presets
• Enhanced preferences
• Set default output location
• Set the encoding thread priority
Simplicity
Video compression is as easy as 1, 2, 3:
1. Open an uncompressed video file
2. Select an intelligent preset
3. Press "Squeeze It"
Download