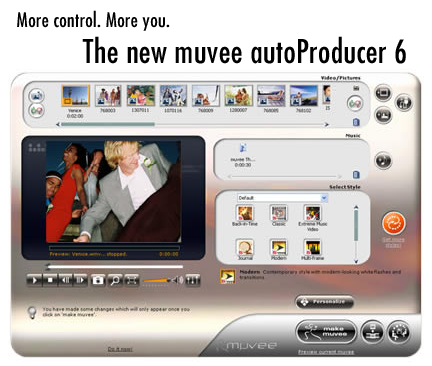 Simply:
1. Import video/pictures from your camera or PC.
2. Add in a music track or two from your collection.
3. Choose a style to give a unique look and feel to your muvee.
4. Click 'make muvee' and voilà, you're done!
Home movies without the hard work.
Instantly make great-looking videos and slideshows that you'll be proud to share. muvee autoProducer is easy-to-use software that automatically does the hard work so you never have to worry about video editing.
muvee autoProducer, introduced the world to automatic video editing and spearheaded a revolution. That's right, automatic. muvee autoProducer turns your home videos and pictures into stunning productions or "muvees" in seconds. No manual editing necessary. But for the times you need more control - or when you want to inject some extra individuality into your muvee – autoProducer provides a surprising level of manual control. If you like tinkering, you may find yourself tweaking away for hours. But only if you want to.
Download