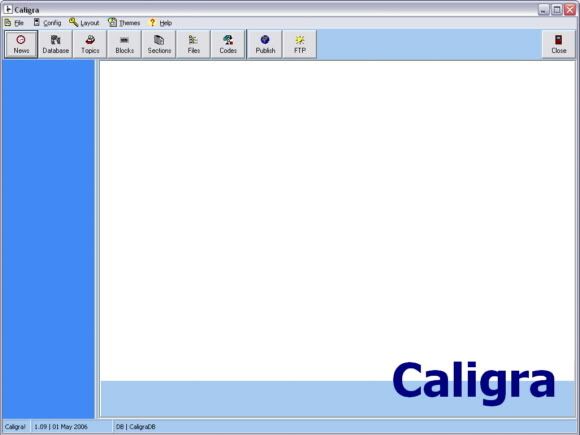 Caligra Web Publishing Tool allows you to create static and dynamic web pages.
Caligra allows you to maintain news or a blog site with ease. You can easily enter new items into your Current News area, click save, click Publish and then click FTP. With Caligra's Quick Blogger Mode, Caligra will hide on your taskbar where you can right-click and publish news or blogs quickly and easily.
CALIGRA - Web Publishing/Blogging Made Easy!

Caligra is a web publishing tool specifically geared towards people who do not have access to a front-end language such as ASP, Pearl or PHP, or access to a back-end database such as MySQL, Microsoft SQL Server or PostGre.
Caligra is a web publishing tool coded in Delphi and the Borland Database Engine Paradox. It creates and maintains local Paradox tables.
Caligra contains everything essential to creating and maintaining a website, including Topics, Sections, Main Menu, File Categories, Files and User Defined Pages. It contains user codes, theme codes and color codes allowing the user to fully customize the look and feel of their websites. It contains complete layout sections for header, footer, page layout, block layout, sectional layout, file category and file layout and user defined page layouts.
Caligra has built in FTP access allowing the user to publish blogged/news items and then immediatly FTP those items to their ISP.
Caligra requires only that you have Windows XP and an ISP.
Caligra comes with a built in template that allows you to get a start. From there you can customize your own website and even publish your own themes for other Caligra users.
CALIGRA FEATURES:

Dynamically built .HTML (or .PHP if you prefer) with One Click Publishing! Once you define your layout, clicking the Publish Button will completely re-publish your entire website!
Built in Macro Code Support : Define hundreds of internal codes that can be used in any area of Caligra!
Built in FTP Client.
Supports RSS 2.0 and ATOM 3.0 XML output.
Configure unique TOPICS, SECTIONS, BLOCKS, FILES and FILE CATEGORIES.
Complete Layout sections with HTML Editor allow you to fully customize the look and feel of your Blog Site.
Save and load THEMES from other Blogs
One Click Publishing! Add a new BLOG item, click PUBLISH and you're done!
Quick Blogger Mode - Caligra resides on your task bar. You can right-click, add new Blog entries and quickly FTP them to your website!
BLOCKS - Left and Right Blocks with toggles for activation and what parts of your blog you want them to show in.
File Categories and Files support.
Sectional Pages for FAQ's and information.
User Defined Pages that allow you to create any HTML/PHP output you want.
CALIGRA REQUIREMENTS:

Windows XP, 2000, NT
Internet Service Provider with FTP Access
Initially 30 Meg Storage - Size depends on Database Items
Screen size of at least 1024x768
Screen Shots of Caligra:

Blocks are right and left "Blocks" of links, pictures or shortcuts. Caligra keeps a full database of blocks for you allowing as many as you like. Place them on the left or the right with the ability to move them up and down.
Config Layout has a full layout section complete with all user defined codes and internal HTML codes. Once your layout is set up, just add news items, topics, sections and blocks to your site and click the publish button. When you click publish, Caligra takes your news, blocks and sections and formats them the way you decide with any layout you want.
Current News allows you to maintain a website with current news and never have to actually log onto your website. Simple click NEW, then add your news story. Once done, click PUBLISH then click FTP and your website is updated. Need a new topic? Quick add a topic or click the TOPICS button.
The Database screen allows you to fully manipulate your news data at a glance. Either with the selected options on the screen or enter your own SQL statements. You can sort, group, delete, modify and move your news items around.
Topics allows you to categorize your news by topic. This makes it easier for users to find old topics by using the topics.html file.
User Codes allows you to define an unlimited number of specially designed "Macro" codes that can be used anywhere in your NEWS, LAYOUT, BLOCKS, SECTIONS and more.
File Categories allows you to maintain different file categories for different types of files.
Files allows you to associate files with file categories to maintain your own files.