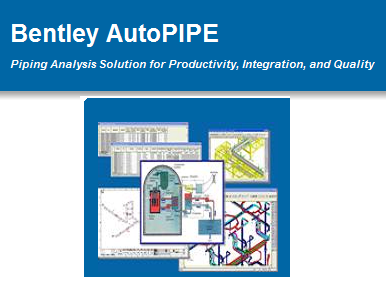 Bentley AutoPIPE is a comprehensive and integrated piping analysis and design solution including a state-of-the-art "CAD-like" graphical interface with unique object technology, fast analysis, realistic animation and visualization tools, and international design codes.
Bentley AutoPIPE enables users to create, modify, and review piping and structural models and their results quickly and easily while offering advanced linear and non-linear analysis capabilities under static and dynamic conditions like temperature, wind, wave, buoyancy, seismic, and transient loadings.
AutoPIPE was developed as a scalable solution to meet the needs of companies working in industries like nuclear and fossil power, process and chemical plants, offshore FPSO platform and riser design, fire protection systems, oil refineries, cross-country gas and oil pipelines, FRP piping, and building services piping. AutoPIPE now incorporates ASME, British, European, German, Japanese, Chinese, API, NEMA, ANSI, ASCE, AISC, UBC, and WRC guidelines and design limits to provide a comprehensive analysis of the entire piping system.
AutoPIPE offers unparallel integration to all major intelligent 3D CAD systems like AutoPLANT , PlantSpace , Intergraph's PDS and Aveva's PDMS. Automated intelligent stress isometrics can be easily generated and customized. Anyone on the project team can now make early design decisions, view full model and graphical data, and perform automatic clash detection of both AutoPIPE and CAD models side by side with ProjectWise Navigator XM.
Featuring the only piping and structural analysis integration solution with STAAD.Pro on the market today, AutoPIPE saves weeks of design time and provides safer, more realistic engineered designs.
AutoPIPE maintains the highest software quality with its internationally recognized nuclear quality Assurance program to such standards as ASME NQA-1, ISO 9001 & 10CFR50 app B. Plus, it has a proven track record of 17 years of independent nuclear audits.
Download