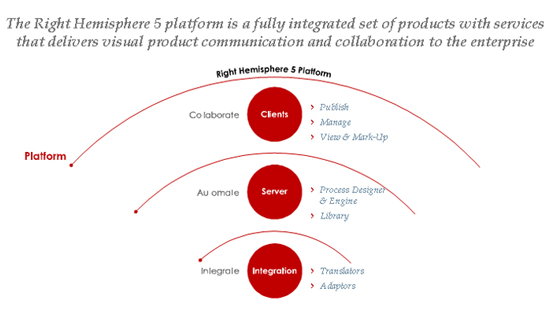 Deep Exploration is a standalone application used to manage and author 2D, 3D, animation, video, and audio assets residing on a computer or network.
With it, you can search, view and manage all your assets in one program, repurpose 3D assets for use in Web pages, training, sales presentations and marketing, and create interactive 3D content for Web-based presentations.
The Right Hemisphere 5 platform is a fully integrated set of products with services that delivers visual product communication and collaboration to the enterprise.
INTEGRATE using RH 5 Enterprise Connect for enterprise information system integration and file translation. Leverage existing systems and assets to maximize return on investment.
* Translators
* Adapters
* Deep Server Connect
AUTOMATE using RH 5 Deep Server to automate the delivery of product information that is integrated from multiple data sources (PMI, CAD, ERP, etc) to all downstream stakeholders to create transformational efficiencies in the organization.
* Deep Server
COLLABORATE using RH 5 client applications for small project content transformation, authoring, publishing and viewing. Deliver rich interactive visualization and simulation applications or product communications in industry standard document formats such as Adobe PDF, Microsoft Office or other media types.
* Deep Exploration CAD Edition
* Deep Exploration Standard Edition
* Deep Creator
* Deep Publish
* Deep View
Download