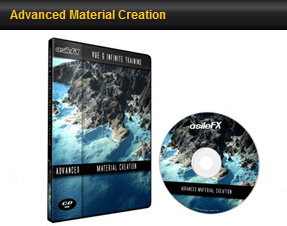 Master of Vue 5 & 6 Infinite, instructor Nicholas Pellegrino, will show you everything you need to know when working with materials in Vue 6 Infinite/XStream. Almost 5 hours of in-depth training.
Learn every setting and every tool in the Material Editor. Learn to create functions for controlling colour, bumps, transparency, highlights, and more.
- Understand mapping modes, which to use, and when.
- Create advanced functions to create landscape materials.
- Learn all about volumetric materials and hypertextures.
- Use layers and environmental setting to create amazingly realistic materials.
- Learn to use mixed materials, and control them with functions.
- Explore displacement mapping options, dispersion, and sub surface scattering.
- Includes an HTML Autorun Menu UI for easy navigation through the tutorial.
Download