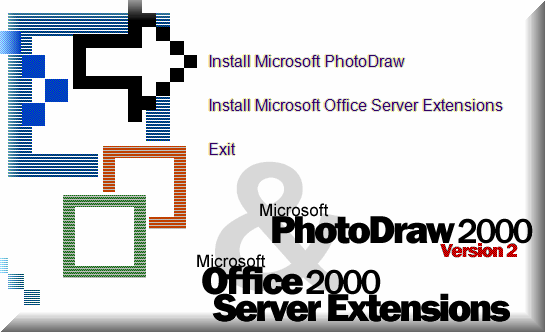 PhotoDraw puts the power of graphics creation into the hands of average users, enabling them to create customized graphics with more than 150 Web effects and styles, 20,000 images, 500 tileable textures and 400 shapes, as well as 300 strokes, stamps and edges.
• Image manipulation in HTML format. Users can easily create, reuse and edit their Web images by opening, editing and saving them in HTML format. PhotoDraw can highlight images on a Web page and allow them to be opened and edited easily. Users can also extend the use of a graphic by saving any image in HTML format.
• Rollovers and animated GIFs. With one click, users can create Web button rollover effects like highlighting and color changes or add animations to graphics for lively and attention-getting Web pages.
• Automated image slicing. Images are automatically sliced, which decreases graphic size as graphics are exported to Web page creation tools such as Microsoft FrontPage. Graphics are sliced to make each element its own object. This speeds the graphics' redraw time on Web pages and also allows text and other elements to be added to the page.
• Image mapping. Users can quickly link pages to other URLs by including Web addresses in an image map on any graphic.
• Web-safe color palettes. Users can ensure safe Web colors by using the Web-safe and optimized color palettes.
Download