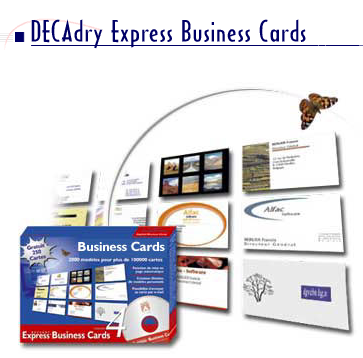 Quick, Easy, Creative
Because Express Business Cards, is so user-friendly, you can create a multitude of business cards in just a few seconds. Numerous wizards will guide you through the process and create professional and attractive designs for you. The collection of DECAdry business card templates is divided into different categories of illustrations and applications which enables you, for example, to go from one format to another with ease.
Powerful, Professional, Practical
Express Business Cards is ideal for small and medium sized companies or personal use. This also enables you to give a professional look to all your business and personal cards.For more advanced designs, the new Express Business Cards tools bring you new horizons...You can personalise the format, text and colour of your business cards according to your requirements, as if by magic...
In a word: Attractive
With Express Business Cards, you are provided with 2000 business card templates and more than 600 clipart designs, free of charge. One magical click creates business cards that will seduce your personal and business contacts and moreover, cards that are interesting to create.
Download