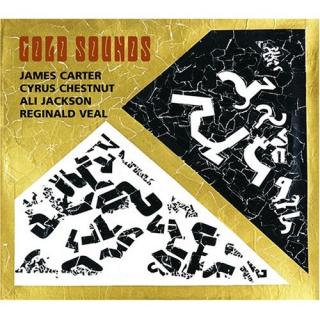 Gold Sounds - Jazz Interpretations Of Pavement
James Carter
Cyrus Chestnut
Ali Jackson
Reginald Veal
Original Release Date: September 27, 2005
Label: Brown Brothers Recordings
Bitrate - 192kbps
1.Stereo
2.My First Mine
3.Cut Your Hair
4.Summer Babe
5.Blue Hawaiian
6.Here
7.Platform Blues
8.Trigger Cut
Concept albums are tricky business, especially in the jazz world. When producers deliver a hand picked group of world class jazz improvisers material outside of their typical sphere of inspiration to re-arrange and improvise, it does not necessarily make for a solid album. While one would not be surprised to find multi-instrumentalist James Carter, keyboardist Cyrus Chestnut, bassist Reginald Veal and newcomer, drummer Ali Jackson playing together, it is surprising to hear them tackling covers of Pavement tunes.

One of indie rock's most beloved of groups, Pavement was often imitated, but rarely equaled. With strong, often quirky melodies and unconventional song structures, Pavement's tunes are actually ripe vehicles for improvisation. That fact alone does not guarantee success. While "Gold Sounds" is an interesting experiment, it falls short of perfection, but surprisingly, not by much.

It is hard to imagine any of these musicians having listened to Pavement in their prime, and therefore having a vested interest in the faithfulness of their interpretations. But that willingness to re-arrange and invert these already heady structures is what makes the album a success. By not falling victim to fanboy like respect, these four expand already strong pieces into vehicles for improvisation that are by turns more complex and listenable than the average pop tune.

While James Carter has tendency to showboat on occasion, with a truckload of pyrotechnic techniques at his disposal, here his indulgences pay off. By peppering his phrases with slippery, shrill soprano twists and sputtered, multiphonic tenor blasts, Carter enriches what could otherwise become a lifeless exercise in transposing vocals to instrumental melody lines. Cyrus Chestnut alternates between piano, Fender Rhodes and Hammond B-3, sometimes playing more than one at a time. Former Wynton Marsalis bassist Reginald Veal alternates between his typical acoustic upright to play electric half the time, while previously unheard, but inventive percussionist Ali Jackson holds down the time with a stalwart groove.

Some of the tunes benefit considerably by their arrangements, others, less so. After the opening blast of "Stereo," the transition to the lyrical line is a bit awkward, but the quartet quickly finds its footing and delivers a solid improvisation based on a familiar theme. "Cut Your Hair," originally an upbeat, anthemic, shout along concert favorite, here is taken at a slower pace, with a Gospel flavor, complete with Hammond B-3 organ washes. Featuring wordless harmonic singing, the only vocals on the album, the cut has an air of the surreal to it. Concluding with a double timed climax of fervent proportions, the entire piece feels like some long lost 1970s Musical Theater production number rescued from the cutting room floor. "Summer Babe" delivers the right optimistic mood, complete with deliciously tormented tenor solo. "My First Mine" an early B-Side with a bouncy Fall-like riff hardly sounds like the original at all. Re-imagined as Dixieland, so distant from its source as to be a new composition altogether, it is enriched with strong rhythmic interplay, making the piece as singular as any on the album.

Numerous Pavement tunes embody a quirky sensibility more akin to jazz harmony and melody than typical pop song structure, and these cuts are the strongest on the album. "Blue Hawaiian," with its odd meter and phrasing, works perfectly with the quartet's winding improvisation. Featuring shimmery Fender Rhodes lines and Carter's velvety to eviscerating tenor, the piece expands like an early fusion experiment, all space and dark ambience. "Platform Blues", from Pavement's final album, originally an Allman Brothers like jam, lends itself perfectly to the group's bluesy vamping. Carter tears it up on tenor while Jackson drops press rolls left and right around him with the rest of the group flailing in spurts. Indicative of the best of both worlds, "Platform Blues" retains both the structure of the original piece while inverting the form enough to make it valid as a jazz vehicle.

Ones appreciation of this material is going to be dependent on their relationship with both Pavement and the assembled musicians. Conservative fans of either stripe will likely cry foul (unless of course, someone tells them to like it). This is unfortunate, as the quartet has done a stellar job at re-contextualizing familiar songs that have become the classic rock of an entire generation.