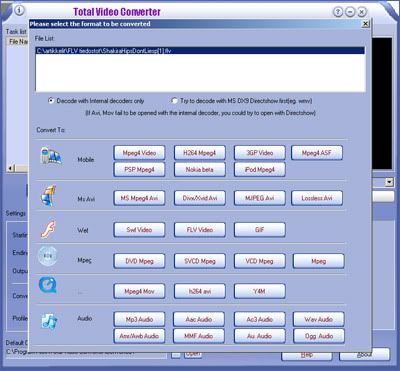 Total Video Converter V3.10 New Features:
1 Photos slide show
Photos slide show turns your photos into slideshows and music with more than 300 photos special transition effect that help you easily make amazing picture-in-picture entertaining photo slideshows.Then output your video to disc, the Internet, iPod, PSP, Smartphones, PDAs and other mobile devices or even burns it to standard DVD players. Copy-saving & Watching & sharing your slideshows anywhere anytime.
2 Importing lots of subtitle file formats, including .srt . sub .ssa .ass .smi .psb .tex .idx etc;
3 Importing WINAMP plugins audio
4 Supports generating ASF,WMV (for ZUNE,XBOX360),WMA video and audio formats;
5 Supports generating Sony Ericsson mobile video formats;
6 Unique feature: Supports generating some kinds of digital camera formats,such as KODAK DC, Samsung L55W, Casio Z600;
7 Supports generating MPEG TS stream subtitle files formats ;
Main Features of Total Video Converter:
* Convert all kinds of videos to mobile videos or audios (mp4, 3gp, xvid, divx mpeg4 avi, amr audio) which are used by cell-phone, PDA, PSP, iPod;
* Photos slide show combines multi-photos and musics with more than 300 photos fantasy transition effect;
* High compatibility and high efficiency for Importing RMVB or RM video/audio;
* Convert various videos to MPEG videos compatible with standard DVD/SVCD/VCD;
* Burn the converted videos to DVD/SVCD/VCD;
* Rip DVD to popular videos of all sorts;
* Extract audio from various of videos and convert which to all kinds of audios (mp3, ac3, ogg, wav, aac);
* RIP CD to audios of all sorts directly;
* Support using with command line;
* Combine several video and audio files to one video file;
* Demultiplex or extract video and audio;
* Multiplex video and audio to one file;
* Flv Nelly Mosser audio extract and decode.
Total Video Converter supports reading the following file formats:
Video Formats:
. Convert from Rmvb (.rm,.rmvb)
. Convert from MPEG4 (.mp4)
. Convert from 3gp (.3gp, 3g2)
. Convert from Game Psp (.psp)
. Convert from MPEG1 (.mpg, mpeg)
. Convert from MPEG2 PS (.mpg, mpeg, vob)
. Convert from MPEG2 TS (DVB Transport Stream)
. Convert from DIVX (.divx)
. Convert from Ms ASF (.asf, .wmv)
. Convert from Ms ASF (.asf, .wmv)
. Convert from Ms AVI (.avi)
. Convert from Macromedia Flash video FLV (.flv)
. Convert from Real Video (rm)
. Convert from Apple Quicktime (.mov)
. Convert from FLIC format (.fli, .flc)
. Convert from Gif Animation (.gif)
. Convert from DV (.dv) ¡¡
. Convert from Matroska (.mkv)
. Convert from ogm (.ogm)
Audio Formats:
. Convert from CD audio (.cda)
. Convert from MPEG audio (.mp3, mp2)
. Convert from Ms WAV (.wav)
. Convert from Ms WMA (.wma)
. Convert from Real Audio (.ra)
. Convert from OGG (.ogg)
. Convert from Amr audio (.amr)
. Convert from AC3 (.ac3)
. Convert from SUN AU format (.au)
. Convert from Macromedia Flash embedded audio (.swf)
. Convert from Audio Formats Dx9 Directshow can open
Game Video Formats:
. Technologies format, used in some games(.4xm)
. Playstation STR
. Id RoQ used in Quake III, Jedi Knight 2, other computer games
. format used in various Interplay computer games,Interplay MVE
. multimedia format used in Origin's Wing Commander III computer game,WC3 Movie
. used in many Sega Saturn console games, Sega FILM/CPK
. Multimedia formats used in Westwood Studios games, Westwood Studios VQA/AUD
. Used in Quake II, Id Cinematic (.cin)
. used in Sierra CD-ROM games, Sierra VMD
. used in Sierra Online games, .sol files
. Electronic Arts Multimedia, Matroska
. used in various EA games; files have extensions like WVE and UV2
. Nullsoft Video (NSV) format

Total Video Converter supports generating the following file formats:
Video Formats:
. Convert to MPEG4(.mp4)
. Convert to 3gp(.3gp, 3g2)
. Convert to Game Psp (.psp)
. Convert to MPEG1 (.mpg, mpeg)
. Convert to NTSC, PAL DVD mpeg and Burn to DVD disc
. Convert to NTSC, PAL SVCD mpeg and Burn to SVCD disc
. Convert to NTSC, PAL VCD mpeg and Burn to VCD disc
. Convert to Ms Mpeg4 AVI (.avi)
. Convert to Divx AVI (.avi)
. Convert to Xvid AVI (.avi)
. Convert to H264 AVI (.avi)
. Convert to Mjpeg AVI (.avi)
. Convert to HuffYUV AVI (.avi)
. Convert to Swf Video (.swf)
. Convert to Flv Video (.flv)
. Convert to Gif Animation (.gif)
. Convert to Mpeg4 Mov (.mov)
. Convert to Apple Quicktime (.mov)
. Convert to DV (.dv)
. Convert to WMV (.wmv)
. Convert to HD Mpeg TS (.ts)
. Convert to ASF (.asf)
Audio Formats:
. Convert to MPEG audio(.mp3, mp2)
. Convert to Ms WAV (.wav)
. Convert to Ms WMA (.wma)
. Convert to OGG (.ogg)
. Convert to Amr audio (.amr)
. Convert to AC3 (.ac3)
. Convert to SUN AU format (.au)
. Convert to m4a (mp4 audio)
. Convert to aac (aac audio)
. Convert to mmf (mmf audio)
. Convert to Flac (flac audio)
Updated History:
Total Video Converter V3.0 beta New Features:
1 Integrate a powerful media player--Total Video Player;
2 Integrate a powerful burning tool that can burn the converted audio and video files to Audio CD/VCD/SVCD/DVD;
3 Supporting outputing flv video with metadata;
4 Easy settings for the output video with high/normal/low quality;
5 Importing and converting Nelly Mosser flv audio with high speed;
6 Converting the Flv video with VP62 video codec;
7 Supporting FLAC audio format;
8 Supporting DV video format;
Total Video Converter 2.60 New Features:
1 Support using with command line
2 Output settings can be saved now
3 Combine several video and audio files to one video file
4 Demultiplex or extract video and audio
5 Multiplex video and audio to one file
6 Rip audio CD automatically