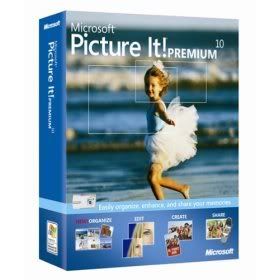 Microsoft Picture It! Premium 10 offers easy-to-use photo tools for digital camera owners who want a complete digital photo solution. Use project templates for photo cards, calendars, labels, flyers, and more to make sure your photos always look their best.
Features:
* Organize your photos: Conveniently organize your photos to quickly find all your favorites. The new Picture It Library allows you to assign keywords and star rankings to your photos.
* New Autofix and editing tools: use new Autofix tools to correct color, exposure, and camera phone images; use Red Eye Autofix to eliminate red eye from your photos.
* Make compelling photo creations: Create a wide range of creative, high-quality photo projects. Choose from more than 5,000 images that you can add to photo collages and design projects.
* Share your photo creations: share photos through e-mail, order prints online, or use Auto Collage to print multiple sizes and multiple photos on one page.
Download