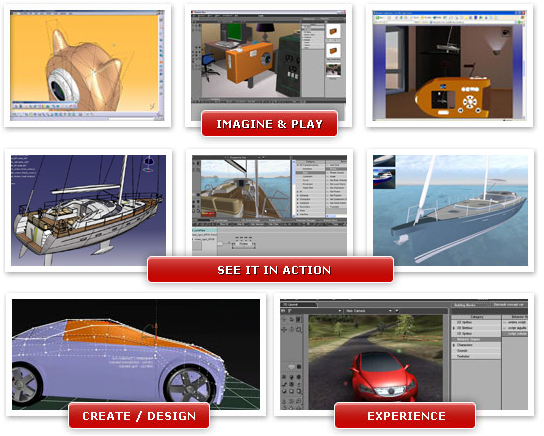 The Virtools 4 Life Platform ushers in a unique solution for pervasively developing and deploying 3D experiences on personal computers, game consoles, Intranets and the web, demonstrating Dassault Systemes commitment to bringing the power of 3D to all user communities.
The open-ended architecture of Virtools 4 supports a wide variety of 3D formats. 3D Content Capture plugins support most commonly used DCC software formats (3ds Max, Maya, XSI, Lightwave, Collada) for importing and exporting 3D XML files, making real-time 3D technology easily available.
Now based on the new Product-Context-Scenario (PCS) paradigm, Virtools 4 allows users to imagine, share and experience highly interactive 3D content. This new paradigm represents a highly intuitive means of capturing the 3D experience and easily mapping product behavior, along with contextual environment scenarios.
With PCS, the Virtools 4 Life Platform enables easy development of virtual experiences such as driving, shopping, product use, maintenance and marketing tests.
Download