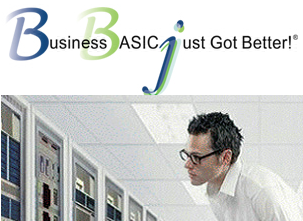 BASIS created the newest version of BBx, the sixth generation, using Java technology. Business BASIC on Java, registered as BBj, gives application developers the necessary tools to create modern, 21st century e-commerce and enterprise solutions.
As a superset of earlier versions of BBx including PRO/5 and Visual PRO/5, BBj is compatible with legacy BBx products. BBj's base in Java allows for the use of object-oriented programming extensions. Other modern highlights include extended Structured Query Language (SQL) support, native form design capability, and support for AES 128-bit security.
Developers can maintain a single version of their application that runs on virtually any hardware in most any environment. BBj GUI applications run equally well in the Microsoft Windows environment, the Linux/UNIX environment, and the Mac OS/X environment.
Download