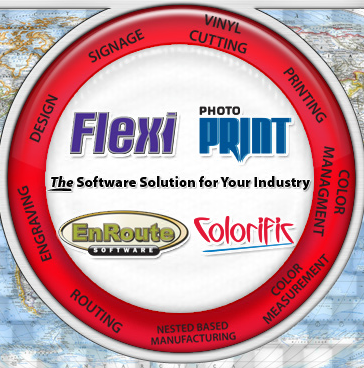 You asked for it... We deliver! The industry standard for Sign Making software, SAi's Flexi Family 8 continues to offer your Sign Making business innovative tools with very profitable results. By integrating finely tuned technology with years of feedback from our Sign Making partners and users, Flexi Family 8 maintains its status as the number one choice for dependable, feature-rich Sign Making software with uncompromising quality.
The Flexi FAMILY offers a full line of 6 different products for professional sign making. Whether you are looking for a simple package for text layout and vinyl cutting, high production features with cutting and printing tools or something in between, SAi has a software solution for you.
* Smart, Easy and Powerful
* Print & Cut Made Quick, Easy and Accurate
* Gerber User Support
* Complete Color Separation Controls
FlexiSIGN-PRO
The SAi flagship product, offers the total solution for any Sign Making business. With genuine Adobe® PostScript® 3 RIP engine, ICC profile support and built-in direct drivers, FlexiSIGN-PRO offers a complete set of design, cutting,RIPing and printing tools for maximum productivity.
Smart, Easy and Powerful
Intuitive software leads to productivity you can measure. To accelerate your learning process our entire user interface is built around your task workflow and thought process. Featuring SmartObjects and Smart Tools, Flexi Family 8 is geared to boost your daily productivity.
1.Gradients, fills and strokes are defined with ease through Flexi 8's Fill/Stroke Editor.
2.DesignCentral is the heart of Flexi 8's interactive menu system, with options automatically changing based on the item currently selected.
3.Users can easily navigate between objects, groups and layers with DesignEditor.
Print & Cut Made Quick, Easy and Accurate
Print your image, and contour cut the decal on any printer/cutter combination, or on a hybrid device. Our special 4-point alignment system will account for possible media skew or distortion, and produce accurate cuts of any length. Flexi 8 also supports the automatic sensing capability of the latest cutter models, for ideal, perfect output.
GerberUser Support
Flexi 8 for PC introduces enhanced features specifically designed for Gerber EDGE users. Now EDGE, EDGE 2 and EDGE FX users can design, print, and cut to most any combination of devices directly from Flexi 8. Empower your Gerber system with the ease-of-use, convenience and production efficiency of FlexiSIGN-PRO.
Export as Adobe PDF
With the new PDF Export option in Flexi 8, you can make industry standard proofs by exporting your projects as PDFs. Need to e-mail proofs to your customers? File parameters can easily be set to fit any piece of paper.
Download